Tariff
Room rates are inclusive of:-
Continental breakfast
Free Wi-Fi internet access
Free internet broadand connection with PC and printer in lounge for guests use
Free car parking
All taxes (UK VAT @ 20%) and are on a per room per night basis
All rooms are ensuite and non-smoking.
The tariff below is an indication of the current room rates and are subject to change throughout the year, please contact Hunters Lodge for the latest room rates.
* Hunters Lodge uses a number of internet booking agencies to market itself. Please note that because of the commissions charged by these agencies we are now not in a position to include breakfast as part of the offering should you book via these internet agency sites rather than directly with ourselves. These agency bookings are purely reserved on a "room only" basis although breakfast can be provided at an additional cost.
Single Room Rate
From GBP50.00 - GBP55.00
Double Room Rate
From GBP80.00 - GBP85.00
Double Room Rate (Single Occupancy)
From GBP60.00 - GBP65.00
Twin Room Rate
From GBP80.00 - GBP85.00
Twin Room Rate (single Occupancy)
From GBP60.00 - GBP65.00
Family Room Rate (2 adults & 1 child)*
From GBP 100.00 - GBP110.00
*

(additional bed can be provided however please contact Hunters Lodge before making any booking)
We also offer room only packages inclusive of vat @20% etc and for further information regarding the latest rates and availability please contact Roddy or Jihea directly.
For those guests staying with us and going away on a cruise we do additionally offer a limited number of long stay carparking places for which we charge GBP6.00 per day or part thereof. Please see our Cruise information page.
A credit or debit card is required to secure any booking (see Reservations page).
Please note that from 1st October 2013 there will be an additional 2% surcharge incurred when using a Credit Card to settle your bill upon departure, this is purely to cover the bank's increased credit card processing fees. No charges will be incurred if a valid Debit Card or Cash is used in settlement.
All rooms are en-suite (toilet/shower/washbasin etc.) and non-smoking.
Reservations must be cancelled at least 72 hours in advance of your arrival date.
Should you need to cancel your reservation there will be no cancellation charge taken provided notice is given to us 72 hours prior to the arrival date. In case of a "no show" or a room cancelled giving us less than the 72 hours notice period then the full charge for the first night of your accommodation will be made from the credit card details provided to secure the original booking(see Reservations page).
Cancellation must be made by email. We do not except verbal cancellation notice.
The family bedroom consists of a double bedded ensuite room within which there is an adjoining single bedded room which is ideal for 2 adults and 1 child (an additional single bed can be provided if required, see picture below). Please contact Roddy or Jihea for further details.
Please note that any reservation with children under the age of 5 years can only be accepted by prior arrangement with Roddy & Jihea, Hunters Lodge.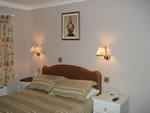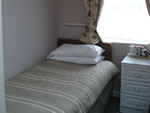 See our previous guests comments on our Guest Book page.
To check availability please use the above online booking system or info@hunterslodgehotel.net or telephone +44 (0)2380 227919 and we will advise availability.
Once availability has been established we will require a credit or debit card to secure the booking (via telephone or the online booking system).
Availability
& Booking
Enter start date, select number of guests (adults & children).
Please note that NOT all our rooms are shown on the On-Line Availability & Booking facility, so if you cannot find exactly what you are looking for then please contact us by either telephone or email and we will be only to pleased to assist you.
+44 (0)2380 227919
info@hunterslodgehotel.net