Local Information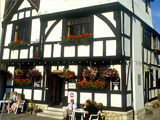 Southampton has a rich medieval and maritime history and has many ancient monuments and listed buildings are found near to each other and are free to visit which give an insight into the city's interesting and fascinating past. There are also a number of Museums and fine Art Galleries for your pleasure and a wealth of parks and open spaces which has earnt Southampton the title of "The Green City".
Southampton is an ideal base to visit other areas of interest and recreation within Hampshire such as Winchester, Romsey and the New Forest as well as the Isle of Wight with the Ferry only being a short distance away from Hunters Lodge. For those interested in sport Hampshire Cricket is situated at the Rose Bowl in the West End, Southampton about 6 miles away and in football Southampton Football Club is only 2 miles away.
Southampton is proud to be one of the top 5 shopping destinations within the UK with three major shopping centres offering something for all tastes with a mix of upmarket stores of high street and independent names and trendy niche outlets. The new IKEA shopping store was opened spring 2009.
There are also a number of cinemas, numerous bars, restaurants, nightclubs, casinos and theatres all within the city and all easily accessible catering for a wide variety of taste for your enjoyment.
The links below, we hope, will help to find your way around Southampton and more information can be found on the Southampton City Council link especially in relation to the Museums, Art Galleries and Theatres.
If we can be of any further assistance then please do not hesitate and contact Roddy Waddell or Jihea, here at Hunters Lodge.
Useful Links
Availability
& Booking
Enter start date, select number of guests (adults & children).
Please note that NOT all our rooms are shown on the On-Line Availability & Booking facility, so if you cannot find exactly what you are looking for then please contact us by either telephone or email and we will be only to pleased to assist you.
+44 (0)2380 227919
info@hunterslodgehotel.net